CRE Competence Centre
The group of multi-resistant Gram-negative pathogens called CRE represents a particular challenge for hygiene management. Multi-resistant Gram-negative rods (CRE) of the genera Enterobacteria, Pseudomonas aeruginosa and Acinetobacter baumannii complex are of particular importance. These are divided into four classes by the RKI depending on the resistance to the four most important antibiotic classes and the clinical significance of the germs. Clinically significant are 3MRGN, 4MRGN and 2MRGN NeoPÄD (german classification). Class 4MRGN infections are critical. The mortality rate is 50%.
Bioscientia, with its special competence in the field of hygiene and microbiological diagnostics, has specialised in this field. We have trained experts for all CRE-related questions and combine the necessary competence to solve the CRE problem in one hand:
The Bioscientia CRE-Screen offers

in the vast majority of cases, a negative result already 24 hours after arrival of the sample in the laboratory. CRE are definitely excluded - a preventive isolation can be quickly lifted.

a targeted and reliable detection of pathogens with CRE phenotype including antibiograms.

reliable and targeted detection of 3MRGN, 4MRGN or 2MRGN NeoPäd - including antibiogram for the initiation of targeted measures.

Hygiene hotline for our customers

Consultation and inspection

outbreak management
For more information, please contact
The current situation is discussed by Prof. Dr. med. Petra Gastmeier from the NRZ für Krankenhaushygiene an der Charite in a publication in the Ärzteblatt. In addition to the medical challenge, there is also the budget burden. According to current numbers of a study of the scientific institute of the TK (WINEG) an MRE infection causes on the average costs at a value of € 17,500.
Relative proportions 3-MRGN and 4-MRGN in the Bioscientia Laboratory Ingelheim 2013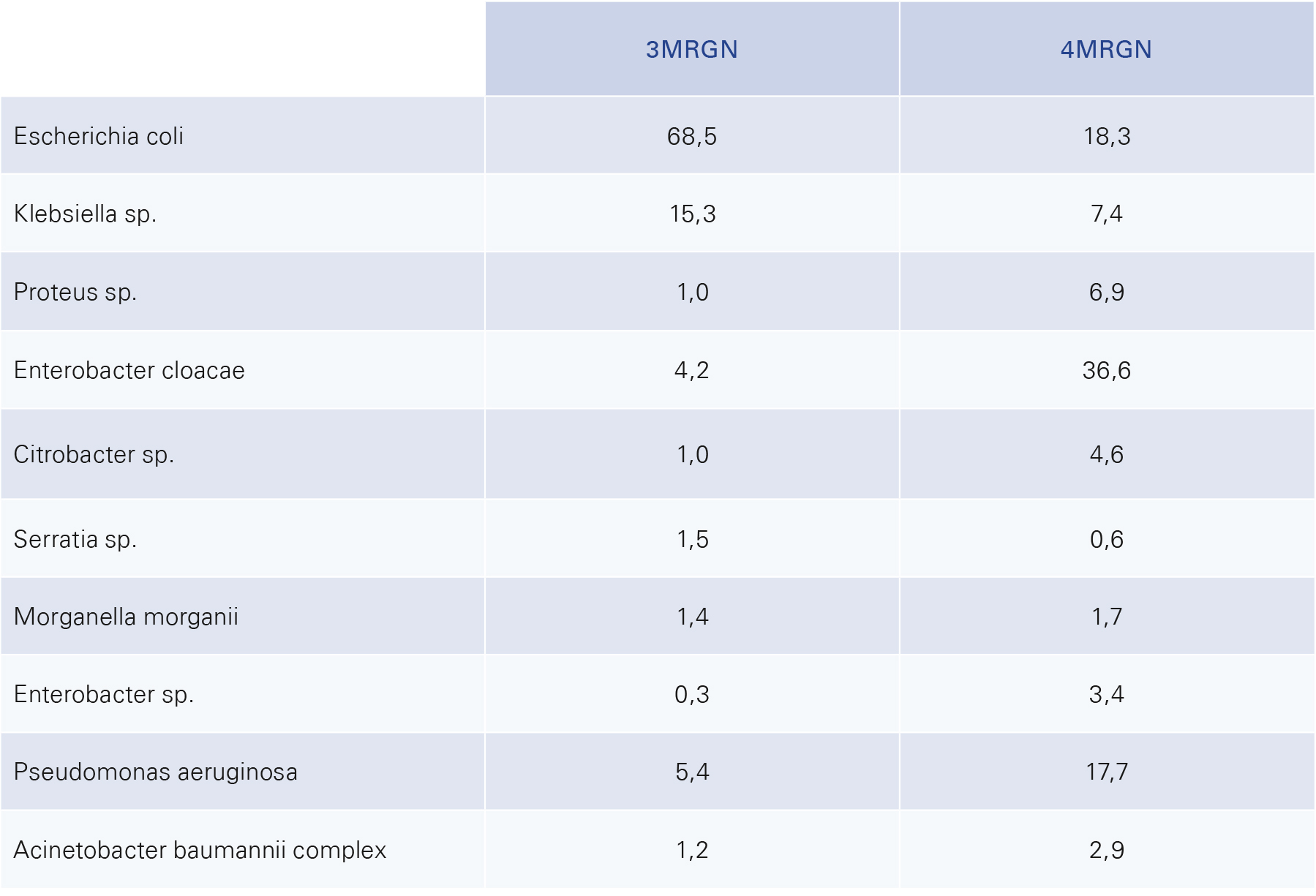 Publication:
Hygiene measures for infections or colonisation with multi-resistant Gram-negative rods. Recommendation of the Commission for Hospital Hygiene and Infection Prevention (KRINKO) at the Robert Koch Institute (RKI), Bundesgesundheitsblatt 2012, 55:1311-1354, DOI 10.1007/s00103-012-1549-5, © Springer-Verlag 2012
Publication:
Communication from the Commission on Hospital Hygiene and Infection Prevention (KRINKO). Practical implementation as well as hospital-hygienic and infection-preventive consequences of microbial colonisation screening in premature infants and newborns treated with intensive care. Supplementary Recommendation of KRINKO at the Robert Koch Institute, Berlin, on the Implementation of Recommendations for the Prevention of Nosocomial Infections in Neonatological Intensive Care Patients with a Birth Weight below 1,500 g from 2007 and 2012 (Epidemiological Bulletin 42/2013)